Paul Robeson's Love Song
An Audio-Visual Experience, by Tayo Aluko
Directed by Olusola Oyeleye.
Recorded online during lockdown.
First broadcast, April 9, 2021 on
(allFM)96.9, Manchester, UK;
Songbook, KPOV, Oregon, USA;
The Word With Miranda, Ujima Radio, Bristol, UK;
Terrestrial FM, Vancouver Community Radio CFRO 100.5FM Canada
Next sharing, followed by Q&A:
Sunday November 10, 6pm (UK time)
Book here 

Now Streaming as a video (with pictures) on African Theatre To Your Home, the streaming service by Utopia Theatre. Running time, 55.5 mins
Click here to buy tickets. (free to patrons who support Tayo Aluko on Patreon)
While clearing out their late mother's belongings in August 2020, two siblings discover a package containing a record, suggesting a possible romantic link between their grandmother and Paul Robeson, dating back to 1949.
As they watch coverage of protests at the latest police shooting happening down the road from them, they recall their mother telling them of protests at a Robeson concert outside Peekskill NY in 1949.
They realise that as a child, she had witnessed the best and the worst of their country in violent conflict in the same way as was unfolding now in Kenosha, Wisconsin.
Contains some racist and anti-Semitic language.
This is an imagined story based around the Peekskill and Kenosha happenings.
Click image below to view trailer.
Click here to listen to 20-minute preview feature.
Reviews:

"Thoroughly compelling and highly educational … my highlight of the Liverpool Theatre Festival …" 
Writebase
Next online screenings (with Q&A):
October 9 (3pm, UK)/October 10 (6pm, UK)
Info and tickets from:
Brown Paper Tickets
Streaming as a video (with pictures) on African Theatre To Your Home, the streaming service by Utopia Theatre.
Click here to buy tickets. (free to patrons who support Tayo Aluko on Patreon)
Organise a group screening with a Q&A with the writer and/or one of the creative team. Online or in person. Contact us for more information.
Cast (in order of appearance)
Pianist. Dennis Nelson
ADELE SPEARS Ananda Bena-Weber
GEORGE SIMONS  Bob Weick
PAUL ROBESON Tayo Aluko
CHARLIE DANIELS. Nils Swanson
BENJAMIN WINGER. Michael Bias
JESSICA WINGER. Lisa Merrill
ESSIE ROBESON Leslie McCurdy
PAUL ROBESON, JR. Mark Atkinson
LLOYD BROWN. Darryl Van Leer
HELEN ROSEN Michelle Pauls
SIDNEY DANIS David Rovics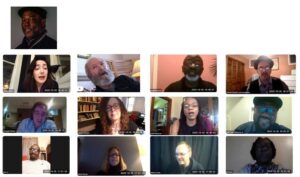 Recorded by David Rovics,
Directed by Olusola Oyeleye, October, November 2020
Edited by Tayo Aluko and Adrian Leibowitz