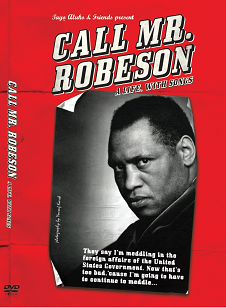 Call Mr. Robeson DVD
Plus interviews with creative team. £14
Recorded at Capstone Theatre, Liverpool, 2013.
Please note that this may not play in all jurisdictions, as it is in PAL format. Please check compatibility of your system before ordering.
Format: PAL; Aspect ratio: 16×9; Audio: Stereo
Running time (the play): 82 mins. Documentary: 30 mins.
Classification: E
Stocks running low and will not be replaced.
Video Now Streaming on-demand from Tayo Aluko's Vimeo site.
Go to bottom of page for details.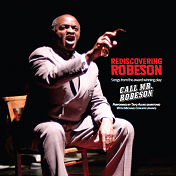 CD: Rediscovering Robeson
Songs from the play in full, including three instrumental piano pieces by Michael Conliffe. £9
(Click here to view set list)
Call Mr. Robeson Play Script
£7
Paul Robeson's Love Song. An audio play.
Streaming on-demand from Vimeo. Go to bottom of page for more details.

Just An Ordinary Lawyer play script
£7
(Cover design may vary)
Just An Ordinary Lawyer Now Streaming on-demand from Tayo Aluko's Vimeo site.
Go to bottom of page for details.
CONDEMNED. Keith LaMar £10
Keith LaMar is a death row prisoner who was wrongfully convicted in the State of Ohio. On November 16, 2023, the State intends to execute him, even though he has maintained his innocence for nearly three decades, all while being held in indefinite solitary confinement. 
In the aftermath of the 1993 Lucasville Prison Uprising, the State of Ohio was under public pressure to clean up a multi-million dollar mess, one that included the death of a prison guard and multiple prisoners. After State investigators trampled the crime scene and contaminated any and all potential evidence, they paid jailhouse informants to create a false narrative that implicated Keith, even though he wasn't affiliated with any of the groups involved in the riot. 

In 2013, after losing complete faith that the Courts would ever grant him the justice he had been seeking for over two decades, Keith LaMar decided it was time to take his story to the Court of Public Opinion. He spent eight painstaking months writing Condemned, an autobiographical account detailing how, in spite of his innocence, he found himself the target of a witch hunt that sent him to death row following the 1993 Lucasville Prison Uprising.

Main Stockists and Mail Order Handlers for all the above:

News From Nowhere Bookshop
96 Bold Street, Liverpool L1 4HY.
Tel: +44 (0)151 708 7270
www.newsfromnowhere.org.uk

Special Offers:
Buy any 2 items and get £1 off each. 3 or more: £2 off each.

Politics and Culture – Paul Robeson in the UK £2
by Sean Creighton

The pamphlet was developed from his talk at the 1998 commemoration of Robeson's  birth held at SOAS. Sean has attended many of my shows , inc. in Halifax (Nova Scotia), when we were both there. He also publicises my work through his event and news blog site. In his capacity as Co-ordinator of the Samuel Coleridge-Taylor Network, he is liaising with me on my SC-T project.  Order here 

Tickets by donation, minimum £10. Click here to see how to make donation, and then send an email to info@tayoalukoandfriends.com. We will then issue you with a link and passcode for you to listen to the play at your leisure. (Note, this is free to patrons on Patreon who have already donated at least that amount).