A Concert in a Play.
Written and performed by Tayo Aluko
Synopsis
A respected Sierra Leonean diplomat hatches a post-retirement plan to tour the world singing songs composed by his famous uncle, Samuel Coleridge-Taylor. While temporarily helping out at the Philosophy department at Fourah Bay College in Freetown, the civil war that has been ravaging the country finally reaches his campus. Taking shelter, George Coleridge-Taylor reflects on his and his country's stories, and imagines himself in concert, all while wondering if he dares risk trying to save the female student captured by the fearsome rebels.
Contains suggestions of/allusions to gender-based violence.
First reading/sharing, 21 September 2023. Liverpool Lighthouse, Anfield, Liverpool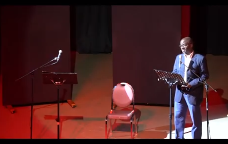 Click image to view 4-minute teaser